GET FREE EXPERT ADVICE FOR BEST RESULTS
Want expert advice to ensure you get the best results from Qenda?

1. Check out our FAQs page for answers to commonly asked questions.
2. Ask a question on our private Facebook forum with over 1300 members.
3. Schedule a free 15 minute call with James, Qenda expert and founder of Jacoco Wellness T/A The Gut Health Hub.

Qenda helped James to reclaim his life after suffering with chronic autoimmune disease and digestive problems for five years. With the help of Qenda, James, and our friendly online community, you too can thrive!
Testimonials
Since taking Ultimate Fibre my pains and IBS have subsided greatly and all but gone, which has given me my life back - which you may think a little dramatic but very true. So you could say that James and his product saved my mindset and health, it may not taste the best but it works in my opinion and needs to be persevered with for at least 3 months for the benefits to be seen. Again many many thanks to James and Ultimate Fibre.

Nathan Hendry
I had some Ultimate Fibre and within minutes I had an uplifting feeling and my mood changed.I then had a really good bowel movement the day after and felt about 10 stone lighter and very clear headed. I could go on for ages about how good this product is. If you struggle with bowel movements and are wanting to detox and repair the gut all at the same time then this is for you! I will always take this product as it has been a life changer and James' knowledge on the products is second to none and he is always happy to help!

Richard Winter
Utimate Fibre just rocks. Prior to starting on it, I felt as though my brain and my bowel just weren't talking to each other. I was chronically constipated. Things like movicol and dulocolax, and even suppositories, just weren't helping me at all. Colonics offered some relief, but even that was short term. Medically, everything checked out fine, so that lot didn't really know what to do for me. I'm about 2 and a half weeks in, and I'm ever so pleased to say that I am pooing a fair amount on a daily basis.

Chrystal Alexandroff
I had months of tests and scans and the doctors has no idea what was wrong with me. I was in a real bad physical place with pain and couldn't digest any food. After 2 years of research and trying countless supplements, I eventually stumbled across James' website, gave him a call and made the biggest difference. Best I've felt in over 2 years from 8 weeks so far on Qenda! James really knows his stuff (wish I would have called him 2 years ago!)

Kieran Cole
I have ulcerative colitis and so far the only thing that works every time I have a flare up is Qenda. None of the medication prescribed has worked for more than a week, including steroids, and the injections actually had no effect whatsoever. I am so pleased my son told me about Qenda. I give this a 100% mark.

Bob Janes
I wanted to give a day 7 progress report as an FYI to others. This stuff is the real deal! I've tried many other products but this is by far the best. I am already feeling more alert and have less brain fog. My tummy is a bit giddy in that it's never experienced so much action/movement. I'm going to the toilet at least four or five times a day with easy release. The beauty of this stuff is seeing the benefits from the outset. I'm very grateful to have found it.

Michelle McFarlane
I took Qenda before I was pregnant then again while breastfeeding at c. 5mos and was best decision I made. I've started Qenda again for maintenance and I'm still breastfeeding (13mos). I think it's helped my baby loads. I started taking it when she was struggling with pooing (she only pooed once every two weeks) and as I introduced solids she suffered with constipation. Only positive results for me and baby.

Rachel Cook-Coulson
I'm now in week 6 of the Qenda cleanse and for the last 4 weeks I've been completely free of Ulcerative Colitis symptoms. No blood, no pain, no brain fog and fatigue. My strength and clarity has come back, and I'm feeling the best I've felt for years (even before my diagnosis over a year ago)! So immensely grateful.

Catherine Cornwall
I have suffered severely with Crohn's for 4 years and tried practically every medication in the book, also had surgery. After speaking to James who kindly spent over an hour on call to me going into detail about the product and has been only a message away whenever I need anything, I am in absolute shock at how different I feel only a week in! Now able to enjoy the outdoors more and spend more time with my family. Thank you again James!

Kerri Jackson
WHY QENDA?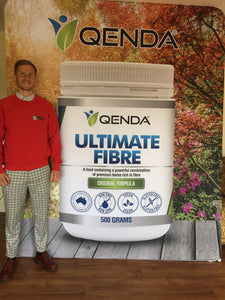 If you are looking for a life-changing health food product, Qenda could be just what you need. Made up of a unique blend of premium herbs, Qenda Ultimate Fibre is an organic source of dietary fibre which assists regular bowel movements, and is also an excellent source of iron.
One serving provides 40% of the recommended daily intake for dietary fibre and exceeds 50% of the recommended daily intake for dietary iron, when made up as directed and in the context of a healthy diet involving the consumption of a variety of foods.
Qenda's ingredients are always organic and wildcrafted, vegan, non-GMO, and gluten-free. Qenda never uses any artificial flavours, colours, sweeteners or preservatives in their powdered products.
Make Qenda Ultimate Fibre your body's best friend - your gut will thank you for it!
ME & QENDA
Whilst suffering with an autoimmune disease and digestive problems for five years, I researched and learned so much about the human body. I discovered the root causes of my 'illness', and I am pleased to report that I no longer suffer with an autoimmune disease or digestive problems, thanks to Qenda!
I have created this site to share with you the power of Qenda and other natural remedies, to help you make simple life changes which can help to improve your health and quality of life, the natural and holistic way.
It would be my pleasure to help you to create a plan on how to live your best life and truly thrive. For tailored advice, please click here to arrange a free 15-minute initial call.
The Gut Health Hub is a retail and informative website for users of Qenda and our other products. For wholesale quantities and distribution enquiries, please visit jacoco.com